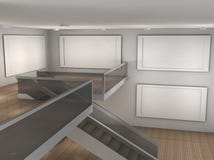 In the Museum of Lost Objects
by REBECCA LINDENBERG
What thou lov'st well shall not be reft from thee;
What thou lov'st well is thy true heritage.
Ezra Pound
You'll find labels describing what is gone:
an empress's bones, a stolen painting
of a man in a feathered helmet
holding a flag-draped spear.
A vellum gospel, hidden somewhere long ago
forgotten, would have sat on that pedestal;
this glass cabinet could have kept the first
salts carried back from the Levant.
To help us comprehend the magnitude
of absence, huge rooms
lie empty of their wonders—the Colossus,
Babylon's Hanging Gardens and
in this gallery, empty shelves enough to hold
all the scrolls of Alexandria.
My love, I've petitioned the curator
who has acquired an empty chest
representing all the poems you will
now never write. It will be kept with others
in the poet's gallery. Next door,
a vacant room echoes with the spill
of jewels buried by a pirate who died
before disclosing their whereabouts.
I hope you don't mind, but I have kept
a few of your pieces
for my private collection. I think
you know the ones I mean.
Nel museo degli oggetti perduti.
Troverai targhette con la descrizione di quel che ormai è scomparso:
le ossa di una imperatrice, un ritratto rubato
di un uomo con un elmetto piumato
che regge una lancia con una bandiera.
Una Bibbia in pergamena, nascosta in qualche luogo
molto tempo fa e dimenticata, sarebbe stata su quel piedistallo;
questa teca di vetro potrebbe aver contenuto i primi
sali portati indietro dal Levante.
Per aiutarci a comprendere l'importanza
dell'assenza , enormi stanze
stanno vuote delle loro meraviglie- I Titani
i Giardini pensili di Babilonia e
in questa ala mensole vuote grandi abbastanza
da contenere tutti i libri della biblioteca di Alessandria.
Amore mio, ho chiesto al curatore del Museo
chi mai abbia acquistato uno scrigno vuoto

istoriato con tutte le poesie che ora non
scriverai più. Sarà esposto con gli altri
nella galleria dei poeti. Alla porta seguente
una sala libera ricorda la perdita
dei gioielli sepolti da un pirata che morì
prima di rivelare la loro posizione.
Spero non ti dispiaccia , ma ho preso solo
qualcuno dei tuoi pezzi
per la mia collezione privata. Credo
tu sappia quel che significa.
Rebecca Lindenberg, "In the Museum of Lost Objects" from Love, an Index. Copyright © 2012 by Rebecca Lindenberg. Reprinted by permission of McSweeney's Publishing.
Source: Love, an Index (McSweeney's Publishing, 2012)